Believe. Bond. Build.
REPLACE TRADITIONAL FASTENERS WITH TAPE
FOR BEAUTIFUL AND SEAMLESS APPLICATIONS.


Duraco High Bond® (DHB) tapes are a high-performance double-sided acrylic foam tape (AFT) bonding alternative to mechanical fasteners and adhesives. DHB tapes can isolate vibration and distribute stress, requiring no unique tools or equipment to apply. In addition, these tapes are easy to use and offer a clean appearance with a wide variety of sizes, shapes, and colors, including customization. DHB can also function as an environmental seal and protect your assemblies from the air, moisture, dust, and more.

DHB provides lifelong performance for various demanding applications and materials.
Aesthetically pleasing, creating nearly invisible bond lines without unsightly welds, rivets, and screws
Creates a permanent bond that is tamper-resistant
Designed to bond dissimilar materials, including low-surface-energy materials
Maintains performance across thermal cycles and moisture exposure and is solvent resistant
Unique shock absorption and vibration-damping properties
The Duraco High Bond Advantage:

In-Stock, available immediately in Grey, Black, White, Clear
Customizable and available in roll and die-cut configurations
Dedicated technical, engineering, and regulatory support
Unmatched quality
Fast shipping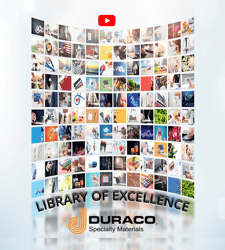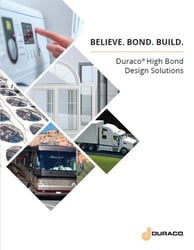 WATCH THE NEW DHB PRODUCT VIDEO
Download the Duraco High Bond® Design Guide
Request a Sample!
Our tape experts can answer questions,
provide samples, and custom quotes too.